Indiana Spine Group Imaging Suite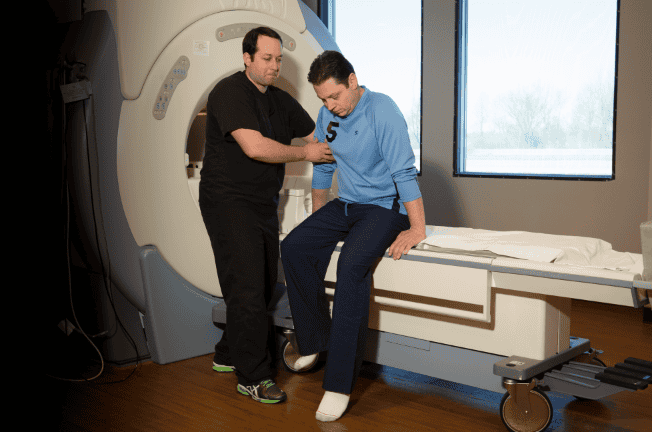 Our imaging center provides the finest diagnostic imaging services available in central Indiana for your MRI. We know there are many options available, but we hope to earn your trust by providing you the most comprehensive and advanced imaging exams. Digital technology provides high quality resolution for more accurate and faster results. When you choose ISG for your MRI it will be performed with specific protocols as determined by your spine specialist.  The result will enhance the diagnostic treatment planning you will need.
Our mission is to provide you with a safe and comfortable experience. Our friendly and caring staff will meet your physical, psychological and emotional concerns. Johnathan Gentile, MD, a pain management specialist with ISG, understands that claustrophobia can be a concern for some patients.
"A number of our patients are afraid of confined spaces, but we will do what we can to help reduce anxiety during your exam," said Gentile.
ISG chose a scanner that is less intimidating than traditional closed-type scanners and it's located in a well-lit room with plenty of natural lighting.
If you have concerns, Gentile invites you to visit our imaging center to familiarize yourself with the facility before your appointment. This provides an opportunity to see what the MRI machine looks like, meet the staff and address your concerns about the procedure.
"If visiting us ahead of time isn't possible, we invite you to call us for information," Gentile said.
Experts say patients generally experience less anxiety if they meet and establish trusts with staff members before their appointment.
Our imaging center is not limited to providing MRIs for the spine. Other types of imaging offered include:
Spine
Neck & head
Knees
Ankles
Feet
Elbows
Shoulders
Pelvis
Hips
In many cases you may be able to receive your MRI results the same day.
Quicker access to treatment
Results from one of our physicians
Competitive pricing
Our imaging center offers flexible appointment times for your busy lifestyle. Call today to schedule an appointment at 317-228-7000 or toll-free 866-947-7463.